Elizabeth and Ilana bring Arizona wedding services to California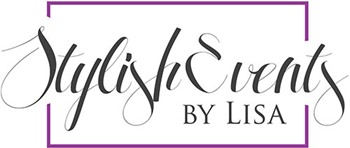 MALIBU, CA (31 July 2015) – Today, Elizabeth and Ilana were married at Wright Organic Farm in Malibu. Guests were wowed by the out-of-state touches this dynamic duo chose for their big day. The two hand-selected an artist to create their dresses and a skilled event planner, both based out of Phoenix, to make their ideal wedding a reality.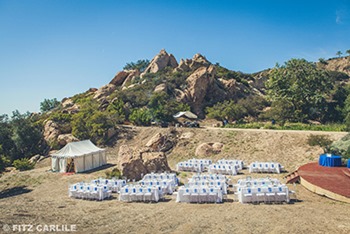 The bridal attire was far from ordinary. Both dresses are compiled of eco friendly mint seed embedded paper and white paper.
"The dresses are a representation of the imagination of their new life together," artist and creator of the wedding dresses Katharine Simpson said.
"Elizabeth's dress follows a mermaid design with a pop of blue fabric peeking out of the bottom and an exposed mid-chest line to compliment her body's assets," Simpson said. "Ilana's dress has a sleek and reserved line for the front of her body with an exposed back."
Simpson is an artist who thrives with the paper medium. She utilizes the paper in fine art pieces that can be hung on the wall or worn as one of a kind works of art. Her dresses are not intended to be pass along, but instead up-cycled making each dress truly personalized to a certain individual.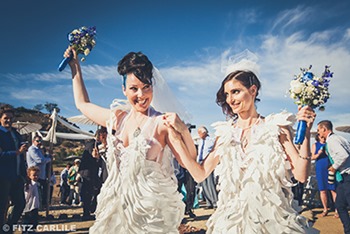 "Unlike the traditional wedding dress, theses unique pieces of art do not carry the same intent to be passed on," Simpson said. "These dresses are designed to be torn apart and planted (i.e the mint seeds imbedded in the paper) and it can be recycled into another art piece or installation, or even be passed on to mother earth by composting."
While in Phoenix, Elizabeth and Ilana found their wedding day coordinator Lisa Foster, owner of Stylish Events by Lisa. Foster is a well-respected event planner that prospers with out-of-the-box weddings and events.
"We strive for creating the incomparable and unexpected," Foster said. "Working with our unique clients helps to push our thinking forward and create experiences that are innovative and trendsetting."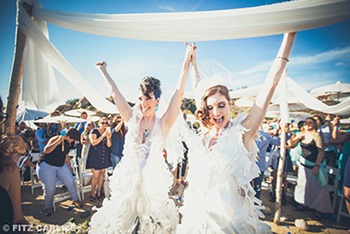 Foster has been in the wedding industry for over ten years. She has done it all from rentals to catering services. Her company is rapidly growing and is expanding its services beyond Arizona.
"Traveling to destination events is one of the best parts of our job," Foster said. "We get to change our surroundings and experience new places and new people. Being able to travel from afar and work on these special projects is always a humbling inspiration for us."
Stylish Events coordinates all occasions including parties, special events, corporate, fundraisers and weddings. To book Stylish Events by Lisa for your next event, visit StylishEventsByLisa.com, follow her on Facebook @stylisheventsbylisa or call 480- 209-2559.
####